2nd May 2019: 
Glad we could end the semester on a high note. Thank you for a phenomenal semester and we can't wait to see y'all next year! To our graduating seniors – best of luck and keep in touch.
---
25th April 2019: 
How lucky are we to have TWO movie nights this semester?! Tootsie was a hoot (to say the least).
---
11th April 2019:
Prof Danny Caballero from Michigan State University presented his research on supporting the integration of numerical computation in physics education.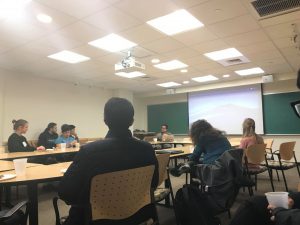 ---
4th April 2019: 
Look at everyone's puzzled faces while figuring out the solution to the handcuff paradox!
---
28th March 2019: 
Have you ever seen someone try to act out the "two-body problem"? If not, you missed out on a hilarious Photon meeting!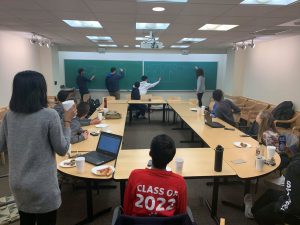 ---
21st March 2019: 
Our grad student talk this week was super informative as we learnt more about the CASPEr experiment from graduate student Deniz Aybas!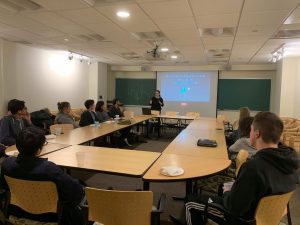 ---
7th March 2019: 
We had an awesome day exploring fluid demos and celebrated Pi Day earlier.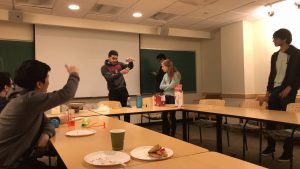 ---
. 28th February 2019: 
One of Photon's most beloved days (Prof Carey Movie Night) was a great way to destress from midterms. We watched American Graffiti (1973).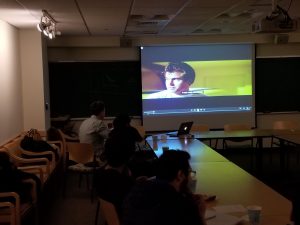 ---
21st February 2019: 
Prof Shyam delivered an exciting talk about biophysics and femtosecond lasers. These lasers can produce power greater than that of the United States. Woah!
---
14th February 2019: 
Listening to everyone's physics pick-up lines and valentine's day themed jokes was hilarious! We can't wait to share some more laughs this semester.
---
7th February 2019: 
The night we were waiting for totally lived up to our expectations: Trivia night with our photon phamilies!!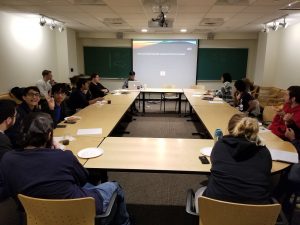 ---
31st January 2019: 
Measuring the speed of light using a microwave and marshmallows was a success!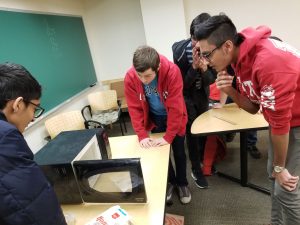 ---
24th January 2019: 
We had an awesome Welcome Back meeting competing against other physics phamilies to build the tallest (and most stable) paper tower.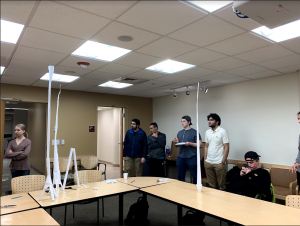 ---
6th December 2018:
Thank you all who came to last Thursday's explosion night! We had so much fun doing some of our favorite demos. It was a  b l a s t!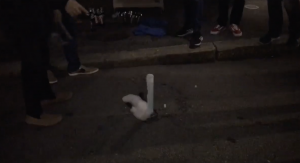 ---
29th November 2018:
Thank you to Prof. Indara Suarez for a great talk last Thursday, and to all of you for attending!
---
15th November 2018:
Thank you, Yash Aggarwal, for putting together a beautiful cloud chamber demo day at our last meeting!
---
10th November 2018:
Thanks to all for coming to the MIT SPS conference last Saturday! We learned a lot from the professor and student talks and had a great time eating delicious Indian food. Congrats to Hichem Bouchamaoui, Annalies Kleyheeg, Sophia Kressy, John Hunter, Sal Pace, and Hannahmariam Mekbib who presented talks or posters! You did a stellar job
---
1st November 2018: 
Thanks to Professor Carey for providing an amazing movie choice for Prof. Carey Movie Night, and thanks to all of you for coming out to watch it!
---
25th October 2018: 
Thanks for coming out to see Prof. Ed Kearns talk about neutrino experiments and sushi!
---
11th October 2018: 
Had a blast during out Electricity and Magnetism demo meeting! It was…. lit, to say the least.
---
4th October 2018: 
What a great talk last week by Prof. Polkovnikov! We all learned a lot about quantum dynamics and cold atom systems.
---
21st September 2018: 
Had so much fun at the Museum of Science last Friday! We're so happy to see that everyone had fun at College Night and learned something new.
---
13th September 2018:
Had a great Thursday night eating liquid nitrogen ice cream and frozen marshmallows! We got to hear a little bit about our new e-board members and meet tons of new members.