Physics Teacher Education Coalition at BU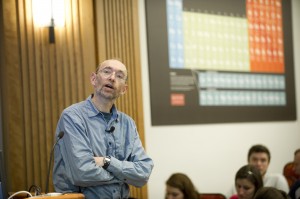 Primary Investigator and Metcalf Cup Winner 2012, Andrew Duffy believes that the world needs a few more highly qualified and trained physics teachers. This project seeks to recruit, train and support STEM majors on their road to becoming tomorrow's High School Physics teachers.
Although the number of high school students taking physics has substantially increased, the number of qualified physics teachers remains in short supply. The Department of Physics and the School of Education at Boston University are partnering with the national PhysTEC (Physics Teacher Education Coalition) organization to recruit, train, and support outstanding physics teachers. Our vision is to establish a vibrant hub for physics teacher education.  The project will focus on pre-service education involving targeted and intense freshmen recruiting, changes to pedagogy in the physics undergraduate curriculum, early field experiences for future teachers, and the development of a network of program alumni with a robust outreach component.
Tags: Home