Accomodations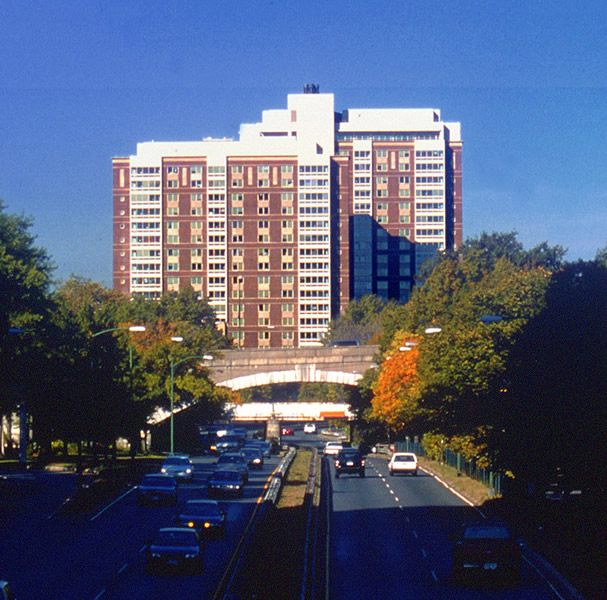 A limited number of dorm rooms are available in the student residence hall at 10 Buick Street. This building opened in fall 2000 and is fully air-conditioned. The apartment-style accommodations consist of 4 single-occupancy bedrooms, 2 shared bathrooms, and a shared kitchenette (see typical floorplan). A cafe and a convenience store are located on the ground floor. A lounge affords a spectacular view of Boston.
The cost for the student residence will be $55 per person per night. Please reserve your dorm room when you register for the conference on our registration page. Dorm rooms must be reserved before June 7, 2004 and will be assigned on a first come, first served basis.
| | | | | | |
| --- | --- | --- | --- | --- | --- |
| Frontdesk | Staircase | Lounge | Common Area | Livingroom | Bedroom |
---
Rooms have been reserved at the following two hotels. Meeting attendees should make their own reservations directly using the meeting name or reservation number as indicated. Room rates do not include state and local tax, which is currently 12.45% in Boston and Cambridge and 9.7% in Brookline. You will need to guarantee your reservation with a credit card. These rooms will be held until Saturday, June 5, 2004.
---
HOLIDAY INN, BROOKLINE
1200 Beacon Street
Brookline, MA
(617) 277-1200
(800) 465-4329
(617) 734-6991 (Fax )
A block of 10 rooms is being held at the Holiday Inn for the rate of $129/night plus tax. You must reserve by June 5, 2004 to get this rate and should reference "BU PIC 2004" when making your reservation. This hotel has a full-service restaurant and is a 10-15 minute walk to the Photonics Center where the conference will be held.
---
THE BUCKMINSTER HOTEL, KENMORE SQUARE
645 Beacon Street
Boston, MA
(617) 236-7050
(800) 727-2825
(617) 262-0068 (fax)
A block of 10 queen rooms is being held at the Buckminster Hotel under the name "Grp Ldr/PIC 2004," reservation #125986 for $109.00/night + tax. There is no restaurant onsite, but there are a number of eating establishments nearby. It is a short 10 minute walk to the Photonics Building or 3 stops on the MBTA (subway).
---
OTHER AREA HOTELS (see also here)
Located either a short walk or a brief taxi ride or walk to the trolley from the conference site. Prices range from modest to luxurious.
HOTEL COMMONWEALTH, KENMORE SQUARE
500 Commonwealth Avenue
Boston MA
(866) 784-4000
http://www.hotelcommonwealth.com
THE RADISSON HOTEL, CAMBRIDGE
777 Memorial Drive
Cambridge MA
(617) 492-7777
(617) 492-6038(fax)
www.radisson.com/cambridge

THE BEACON INN, BROOKLINE
1087 Beacon Street
Brookline MA
(617) 566-0088
(888) 575-0088
(617) 278-9736 (fax)
http://www.beaconinn.com

ELIOT HOTEL
370 Commonwealth Avenue
Boston MA 02215
(617) 267-1607
(800) 297-0144

HOWARD JOHNSON AT FENWAY PARK
1271 Boylston Street
Boston MA 02215
(617) 267-8300
(800) 233-1234

HYATT REGENCY CAMBRIDGE
575 Memorial Drive
Cambridge MA 02139
(617) 492-1234
(800) 233-1234

LENOX HOTEL
710 Boylston Street
Boston MA 02216
(617) 536-5300
(800) 225-7676

DOUBLE TREE GUEST SUITES
400 Soldiers Field Road
Boston MA 02134
(617) 783-0090
(800) 222-8733

COPLEY PLAZA
138 Saint James Avenue
Boston MA 02116
(617) 267-5300
(800) 527-4727

COLONNADE HOTEL
120 Huntington Avenue
Boston MA 02116
(617) 424-7000
(800) 962-3030

BACK BAY HILTON
40 Dalton Street
Boston MA 02115
(617) 236-1100
(800) 445-8667

BEST WESTERN TERRACE MOTOR LODGE
1650 Commonwealth Avenue
Brighton MA 02135
(617) 566-6260
(800) 242-8377
BED AND BREAKFAST RESERVATIONS offers bed & breakfast and guest house accomodations in and around Kenmore Square (the conference location).
(617) 964-1606
(800) 832-2632
www.bbreserve.com