13th September 2018:
Had a great Thursday night eating liquid nitrogen ice cream and frozen marshmallows! We got to hear a little bit about our new e-board members and meet tons of new members.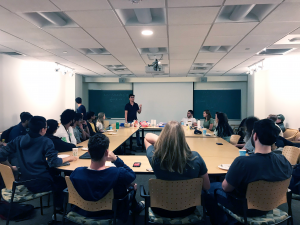 ---
21st September 2018: 
Had so much fun at the Museum of Science last Friday! We're so happy to see that everyone had fun at College Night and learned something new.
---
4th October 2018: 
What a great talk last week by Prof. Polkovnikov! We all learned a lot about quantum dynamics and cold atom systems.
---
11th October 2018: 
Had a blast during out Electricity and Magnetism demo meeting! It was…. lit, to say the least.
---
25th October 2018: 
Thanks for coming out to see Prof. Ed Kearns talk about neutrino experiments and sushi!
---
1st November 2018: 
Thanks to Professor Carey for providing an amazing movie choice for Prof. Carey Movie Night, and thanks to all of you for coming out to watch it!
---
10th November 2018:
Thanks to all for coming to the MIT SPS conference last Saturday! We learned a lot from the professor and student talks and had a great time eating delicious Indian food. Congrats to Hichem Bouchamaoui, Annalies Kleyheeg, Sophia Kressy, John Hunter, Sal Pace, and Hannahmariam Mekbib who presented talks or posters! You did a stellar job
---
15th November 2018:
Thank you, Yash Aggarwal, for putting together a beautiful cloud chamber demo day at our last meeting!
---
29th November 2018:
Thank you to Prof. Indara Suarez for a great talk last Thursday, and to all of you for attending!
---
6th December 2018:
Thank you all who came to last Thursday's explosion night! We had so much fun doing some of our favorite demos. It was a  b l a s t!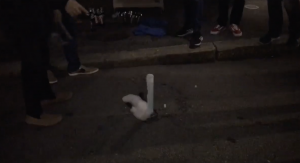 ---